True Class A tube guitar amplifier head
40 watts output
"Accutronics ™" spring reverb
2 footswitch controlled channels (including gain & master volume)
Tone (bass, mid, treble), reverb & presence controls
"Baltic birch" quality construction in "deep cherry" finish*
Point-to-point wiring
HUGE warm tone and power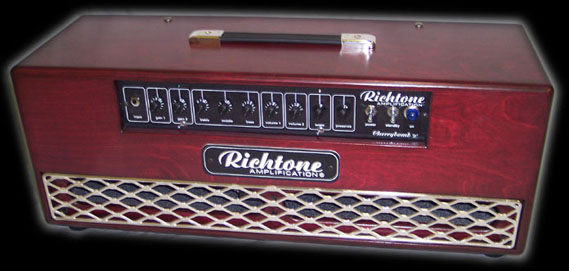 Tubes: 3 x 12ax7a pre-amp, phase inverter, reverb return
2 x 6fq7/6cg7 reverb driver, output driver
1 x 6146B power tube
Made with the highest quality electronic components
CLICK HERE FOR CONSTRUCTION DETAILS!
CLICK HERE TO SEE WHAT OUR CUSTOMERS ARE SAYING!

Here's a quote from Myles S. Rose, head of the SAG (Special Applications Group) at Groove Tubes (www.groovetubes.com)
about the 6146B:
"... the best sounding Ampeg SVT amps of all time were the ones with the 6146B. When they went to 6550s I think something was lost. I also think it is a crime to change the original 6146B amps to 6550s as the 6146B is still easily available."
-Myles, guitaramplifierblueprinting.com
Myles is also the moderator for Guitar Player Magazine in their Guitar Forum at www.musicplayer.com where he also has an ongoing post "Feel free to ask Myles" that gives technical help.
* We can do custom colors at no extra. That's right,no extra!